The COWORKSTATT
in the ITF West in Frankfurt-Griesheim
greatly designed, fully equipped ready-to-use office space
Area: 530 sqm
Rental: depending on size and workplace
Parking spaces: available
The COWORKSTATT is part of the ITF Innovation and Technology Center Frankfurt-West. Innovative and traditional companies from craft, trade, production and services are represented in the ITF, with a focus on planning and construction, pharmaceutical/medical technology, building services/automation, health and several sports activities.
The area was designed according to the latest ergonomic and practical findings and designed by Franken Architekten. It is fully equipped and ready for immediate occupancy. Target groups are a single or several associated SMEs with limited budgets and the heterogeneous needs of various employee groups.
It already meets the increasing demands on modern office work environments: at the same time it is productive and flexible, healthy and sustainable as well as affordable. Accordingly, it consists of privately usable cubicle offices and mobile workstation areas, meeting rooms, open work and telephone niches as well as a central community area.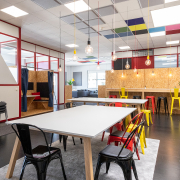 For many years, the owners have placed great value on sustainability in terms of the triple bottom line (economy, ecology and sociology/functionality). For example, existing structures were intelligently revitalized, existing louvered lights were replaced by LED panels, and equipment and furniture with a high proportion of natural materials was selected.
The innovative, climate-friendly energy supply, which is ensured by a highly efficient combined heat and power unit (CHP), operated with gas and CO2-neutral wood pellets from sustainable cultivation, is based on the principle of combined heat, power and cooling.
Equipment:

The entire equipment is also sustainable. In addition to identity-creating, handmade carpentry furniture made of untreated coarse chipboard, existing furniture has been refurbished and supplemented with new, ergonomic office chairs and a variety of sofa and chair sets.
The visual highlight are the Pop Architecture graphics, designed exclusively for the space, with retro-futuristic motifs in bright primary colors that are perfectly matched to the room-spanning, ruby red grid elements. Acoustic elements are made of pure sheep´s wool and thus not only dampen noise but also regulate the climate. A highly modern, hard-wearing tile carpet covering was laid in the offices and combined with a high-quality linoleum covering in the conference and common areas. The custom-made pantry includes energy-saving electrical appliances (refrigerator, microwave, large pot coffee machine) and a set of dishes and cutlery.
Each area has individual desks, storage space and communication and relaxation areas. Together with the large number of alternative, power-supplied work and telephone niches as well as "hot desks" in the community areas, the rental space is thus perfectly suited for companies with permanently present employees, (changing) project group work and(or people working temporarily in the office. The space is equipped with an efficient, directly usable WLAN and LAN cabling. Fiber optics can be provided on request (against cost sharing). A small open space with bistro chairs and tables and surrounded by hedges completes the employee-oriented offer.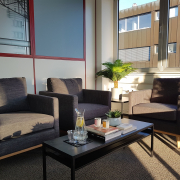 Miscellaneous:
The rental space currently has 24 full-fledged desk workplaces (in accordance with workplace guidelines), 30 hotdesk/temporary workplaces, 14 conference places (in 2 separate but connectable rooms) and >30 community/sofa/armchair places. In addition to the private and communal areas, a separate conference area (>26 seats with tables, seating up to approx. 60 seats) with design thinking facilities, lounge and catering area for hourly or daily rental is available to internal and external useres on the same floor opposite the rental area. Additional storage and archive rooms can also be rented.
Price list Private Offices and Co-Working-Places


(Download the price list -> here)
Included services:
Private Office
Complete furnishing (desks, chairs, filing cabinets, seating group depending on office size, coat racks, lighting)
Lockable
Keyless access 24/7
Use of all community services
Coworking Places

Mobile or fixed seats in the coworking areas (depending on booking)
Complete furnishing
Keyless access according to the booking agreement (fixed days and times between 8am and 6pm)
Use of all community services
Community Services

Proportionate use of the spacious, fully furnished community areas including kitchenette area and WC areas
Proportionate use of area-related conference rooms (up to 2 hours/day, subject to availability, daily reservation)
WLAN with fast Internet (up to 250 Mbit/s)
Heating & Electricity
Cleaning services
Operating costs according to operating cost agreement (incl. building management)
Additional offers (not included in price packages, but bookable separately)
Lockable cabinets (already included in the all-inclusive price for private offices)
10% off conference room prices in the conference area
Beverages
Parking spaces (rent: 60 €/pitch/month)
Telephone connection
Own network
Conference rooms in the conference area (room, equipment, catering)
Further current information is available at www.spacebase.com
Bookings of tenants directly with the landlord. Then also contingent agreements possible (15% discount compared to listing prices)
We are looking forward to you !
NEWS – NEWS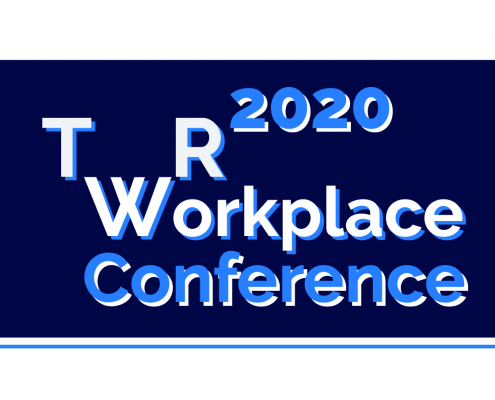 Press release Frankfurt, September 22, 2020
TWR2020 Transdisciplinary Workplace Research Conference: Experiment of the first REALLY hybrid transdisciplinary conference on new working worlds out of the COWORKSTATT Frankfurt extremely successful!
The second conference on transdisciplinary workplace research of the TWR Network (twrnetwork.org) was an experiment! But after three intensive and innovative days, one thing is certain: The experiment was a success. Started in the summer of 2019 with the 'Call for Abstracts' to science and practice, the radically changed circumstances from March 2020 on required agile management, new ideas and courage – not only from the organizers Dr. Annette Kämpf-Dern and Prof. Dr. Mascha Will-Zocholl. Together with the experienced team of Omega Veranstaltungstechnik from Weimar, the 70 virtual and 30 physical participants from 17 countries who were present in Frankfurt from 16-19 September 2020 were able to engage in an exchange that crossed borders and disciplines in every respect. To this end, all events – from the architecture tour and the round tables on Covid19, key notes and more than 70 presentations, up to joint cooking, the running dinner and the excursion to the intelligent building of smart engine | wtec – were actually held in hybrid form and live on site. The flexible office, the COWORKSTATT in Frankfurt-Griesheim, proved to be the ideal place for the discussion about modern and contemporary workplaces. The fact that the whole thing was very well received by the participants is shown by the extremely good responses.
What exactly happened during the conference?